Exclusive to Just Jymnastics, this awesome class incorporates martial arts, gymnastics, and obstacle course training! Ninja training includes flips, rolls, and kicks.  The gymnastics training and obstacle courses are designed to improve coordination, build strength, and increase agility.  Beyond skill, this class teaches: self-confidence, discipline, impulse control, responsibility, and instinctual safety (how to roll when you fall).
Required Apparel: Ninja Zone t-shirt and headband along with any of your own comfortable black shorts or loose fitting pants (no zippers or buttons)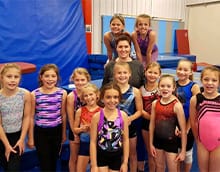 School Year Ninja Classes
Our school year classes run September 6-May 27, 2023 for kids ages 3-13. We have open enrollment, so you can enroll or drop at any time!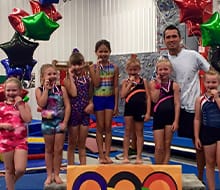 Here for most of the summer? Our summer classes run June, July, and August for kids ages 3-13.
We offer free make-ups, so you can make-up the days you miss for vacation! 
In December and May, we hold an Awards Presentation during class time.  Every child will receive a ribbon based on his or her achievements! No need to register.
The Ninja Zone program consists of 4 levels: white, yellow, green, and blue. Each ninja in our program will begin in the white level and will advance at his or her own pace through the 4 colors of the program. After successfully completing all of the skills in a level, your Ninja will be invited to a Mission by their Ninja Trainer! We hold missions every eight to 12 weeks.